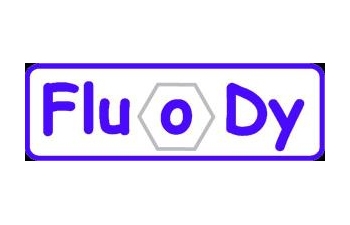 Via Boves 10/A
12089 Villanova Mondovì (CN)
---
Contatto: Paola Puppo
Ruolo: Technical Director
Telefono: 0039 0174670381
Sito http://www.fluody.com
Anno di Fondazione: 2008
Impiegati: 2
Settori di attività: Pharma / Biopharma
Keywords:
organic synthesis, molecules, Dyes, fluorescence, Kilos Scale, analytical services
DESCRIZIONE
FLUODY is a privately owned company operating in high added value organic synthesis. The company was born in 2008 in the incubator of the university of Turin, 2i3t. At the beginning of year 2012, a brand new laboratory was launched in Villanova Mondovì (CN), Italy.
Our chemists have strong expertise in designing and synthesizing organic molecules from lab to kilos scale with particular attention to R&D phase and process development.
Our activities are:
R&D on Fluorescent Dyes
Fluody developed tailored fluorescent cyanine dyes for Biotechnology in the full visible spectrum from 420 to 750nm.
We can design and synthesize fluorescent molecules with specific functionalities and chemical/physical properties to be used as labeling agent for in vivo Optical Imaging and in vitro biotechnological applications.
Custom Synthesis from Lab to Kilo ScaleFine Chemicals
Reference and Working Standards
API impurities
We synthesize organic molecules not easy to find in the market and difficult to prepare.
We can either reproduce synthetic procedures reported in prior art or develop new synthetic approach to provide Reference and Working Standards for pharmaceutical applications, impurities of Active Pharmaceutical Ingredients or Fine Chemical compounds.R&D Studies, Process Development and Critical Steps Optimization
Fine Chemicals
API and Intermediates
We carry out Research & Development study, Process Development and Optimization of Critical Synthetic Steps.
Analytical characterization and study
We offer analytical services to get the characterization of organic compounds. We are equipped with:
High Perfomance Liquid Chromatography (HPLC)
Mass Spectrometry (MS);
UV/Vis Spectrophotometry;
Near Infrared Spectroscopy;
NMR (in collaboration with University of Chemistry of Turin);
Melting Point;
Loss on Drying.
Products: Analytical services to get the characterization of organic compounds,Custom Synthesis,R&D Studies, Process Development and Critical Steps Optimization