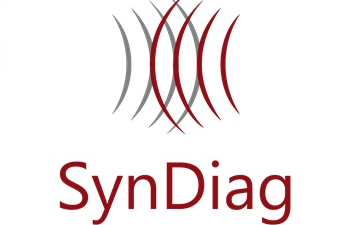 Corso Castelfidardo 30/A,
10129 Torino (TO)
---
Email: daniele.conti@syndiag.ai
Telefono: +393935189194
Sito www.syndiag.ai
Anno di Fondazione: 2019
Impiegati: 1
Impiegati R&D: 1
Settori di attività: Medical devices / Biotech Healthcare, ICT for Health / e-health
Keywords:
Decision Support, Early Diagnosis, Artificial Intelligence, Augmented Intelligence, Medical Images Interpretation
DESCRIZIONE
SynDiag is an innovative company born to guide Digital Transformation in diagnostic ultrasound. Ultrasound is the most widespread medical imaging technology in the world, as it is cost-effective and not dangerous for person's health. However, it is also the technology that shows more operator-dependence and therefore the correctness of the diagnosis depends
more on the experience of the doctor. SynDiag develops a digital platform, based on Artificial Intelligence, aimed at objectify the use of ultrasound and reducing false diagnoses.
Gynecology, and ovarian cancer in particular, is the first field of application identified. SynDiag creates the first Digital Academy for oncological gynecology, through which the experience of oncologists is shared with the gynecologists. In fact, information and experience are key to a correct understanding of features observed within ultrasound scan.
Through the Academy, SynDiag provides OvAI, software developed in collaboration with the oncologists of A.O. Mauriziano Umberto I of Turin, IRCCS Institute of Candiolo, IRCCS Oncology Reference Center of Aviano, Pordenone, and Sourasky Medical Center of Tel Aviv, Israel.
OvAI is a class I software medical device, based on Artificial Intelligence and operating in the Cloud, which interprets an echographic video acquired by the doctor in real time, while the physician carries out a first-level gynecological check. The ultrasound scan is augmented, meaning it is returned to the doctor with evidence of the potentially tumoral features, described quantitatively and according to international guidelines. In this way, SynDiag aims to support doctors during the decision-making process, allowing an early diagnosis to be made.
In Europe every year more than 50,000 new cases of ovarian cancer occur, a relatively rare tumor, but with mortality rate among the highest for cancers. Every year, within 100 women affected, 62 women will die within the next five years due to this condition.
This dramatic situation has remained unchanged during the past 60 years, without any effective improvement in the diagnostic processes or in the technology used.
The main motivation for this scenario is due to the characteristics of this tumor: asymptomatic, observable only with an operator-dependent technology and still without a detailed standard diagnostic procedure.
SynDiag brings doctors the necessary information to carry out a correct ultrasound diagnosis. It offers to gynecologists and clinics the opportunity to carry out ultrasound diagnosis easily, accurately and objectively, producing reports according to international standard definitions, in less time and at lower costs, with the vision to save lives.